Analog Telephone Adapter
An Analog Telephone Adapter (ATA) is a device used to connect one or more standard analog telephones to a VoIP (Voice Over IP) telephone system. The ATA communicates with the remote VoIP server using a VoIP protocol such as SIP and encodes and decodes the voice signal using a voice codec such as G711, G723, G729, gsm or others. Since ATAs communicate directly with a VoIP server, so they do not require any additional software. The most common Analogue Telephone Adapter is a device with at least one RJ11/12 telephone jack (FXS port) used to connect a conventional telephone and an RJ45 Ethernet jack used to connect to LAN or Internet.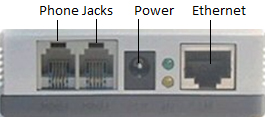 Benefits of Analog Telephone Adapters:
You can integrate your traditional analog telephones with latest VoIP Services
You can use your telephone number anywhere in the world by just connecting the ATA with the internet
No need to spend money on expensive VoIP Phones, just plug your existing traditional analog phone with the ATA and enjoy the new VoIP Services
Easy to use and only one time configuration required
Web Based configuration menu
Password protected account configuration
Analog Telephone Adapters come with 2, 4, 8 and 16 telephone ports lines. We deal in a wide range of Analog Telephone Adapters i.e. Linksys, D-Link, Zyxel and Zycoo.
To get a price quote, please contact us on sales@vertexsol.com